Tomorrow is day 10 of the 24-hour curfew that Grenada imposed after it was dissatisfied with the original curfew. It appears to be working because the total COVID-19 cases are holding steady at 12, all traced to the original cases that came in on airplanes, carrying the virus.
Much of our time during this curfew is spent like a passage at sea – doing school, cooking, and other activities that can take place on the boat. We have adopted a team cooking approach with an adult and a child pairing up to make lunch and dinner on a rotating schedule. This has given everyone a sense of purpose, at least every third day!
Unlike our passages at sea, we also get to swim to the little reef right by our boat. The sea state is always quite pleasant and the wind strength doesn't matter much except to keep us cool. There is always a decent breeze so we are quite comfortable for most of the day.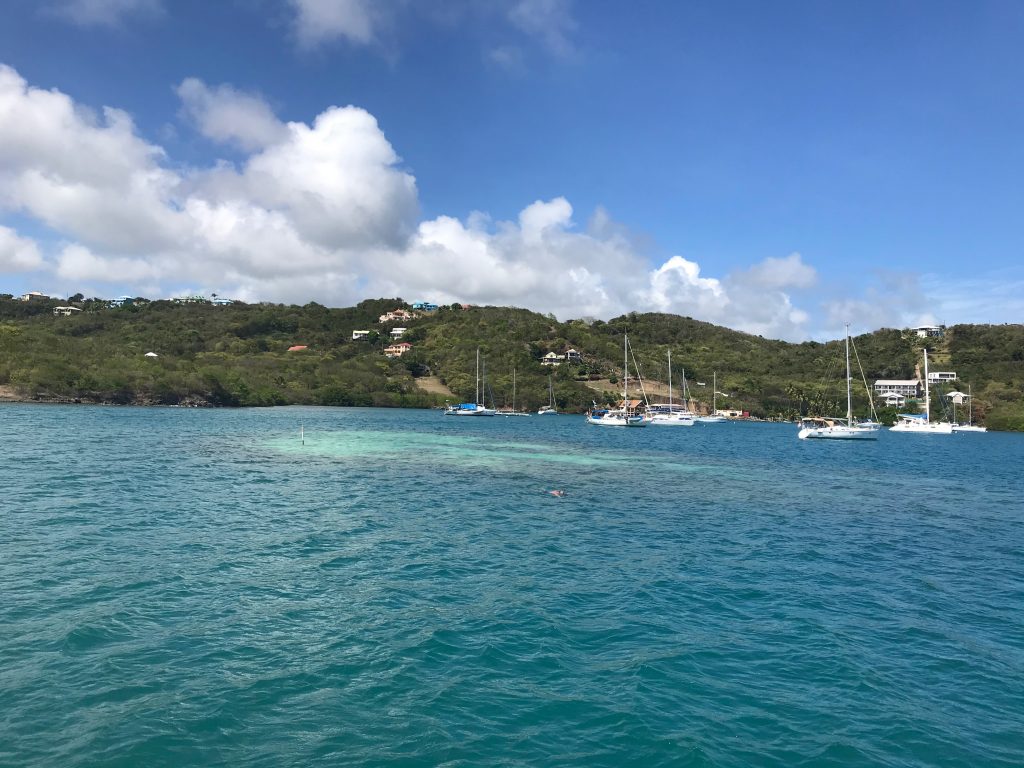 Paul has joined our boat for a while. His time on Chao Lay ended and his Air BnB on Grenada hasn't started yet so we offered him a spot to fill the gap. He is a delightful man – a hard worker who enjoys the kids and is always in a good mood. He has the added advantage of having a prosthetic leg which has given the kids all kinds of entertainment. Tully and Marin have both tried the leg on as well as operated the little tool that allows Paul to attach it to himself. Paul has all kinds of interesting stories about his past in the English Air Force and on boats so we have enjoyed his company on our lengthy "passage" in the anchorage.
Joe and Paul have kept busy with all kinds of boat maintenance projects. If ever there were a good time to buy a boat, I think it has to be immediately after a global pandemic. The boat is cleaner, shinier, and in better repair that at any other time in her history with us. The guys have emptied and scrubbed all the storage compartments, oiled all the tools, sanded, varnished and patched the woodwork, filled the gelcoat, serviced the winches, and waxed and polished anything needing waxing and polishing.
On our first day at the reef, I spotted a lionfish which I quickly summoned Joe to see. It was quite pretty and unthreatening – just sort of swimming in place like a thorn bush. After confirming that it is an invasive species that is supposed to be killed on sight, Joe returned and gathered Cobin, Paul and the spear gun. I didn't get all the details of the hunt but they were victorious! Joe shot the lionfish at close range and they left it to be eaten by its former potential prey rather than trying to avoid its poisonous spines. Apparently, they are delicious to eat but it is quite difficult to get to the meat because of the spines.
A few days ago, Paul spotted another lionfish, probably one that moved into the dead one's territory. Joe came back for the spear gun and I sent the girls back with him because they had not seen the previous lionfish and wanted to see one alive. Marin said she saw it briefly but poor Tully said her mask was too foggy to see anything. They will get another chance because this one somehow evaded the shot at point-blank range and escaped to be a target for another day.
Select members of the cruising community seem to have relaxed their need to act as quarantine vigilantes or perhaps I have just learned to ignore them. It's also possible that I misinterpreted some people's comments. There are always 1-2 outspoken people and many, many more that just stay quiet. It's always hard to remember that the quiet ones exist when the loud ones are so loud. In any case, the novelty of the regulations has worn off and now all of us appear to be turning our energy to the more important task of securing needed supplies rather than monitoring our neighbor's behavior.
Thankfully, before the curfew began, we made some friends with a car. At the beach on my surprise birthday trip, we met a family with four kids, ages 3 to 9. They came over to Charm to play right before the curfew went into place. We stayed in touch and they offered to help if we needed it. The lockdown rapidly went from being a 7 pm to 5:30 am curfew to being 24-hour curfew with three shopping days a week. Then a new announcement came out that the only shopping would be at small local markets and no alcohol would be sold. Then they announced that the large supermarkets would reopen for one day on the day the 24-hour curfew was to be reevaluated.
Like everyone else in the country, I was anxious to get to a larger supermarket rather than waiting in line at the smaller neighborhood markets that weren't as fully stocked. We are lucky enough to have access to a boutique market that caters to sailors that can provide us with most things that we want. Still, there's nothing like doing your own bulk shopping so I asked our family friend, who I will call Kevin, if he would pick me up and take me to the store.
With seven mouths to feed, he was also feeling the strain of not shopping, so both of us agreed to get up early and wait in line for the store to open. Having already done this at the Real Value IGA store before, I thought we would be OK arriving an hour or so before opening. I expected a larger line but not one that went completely around the football field and through the parking lot.
Kevin and I took our places in line, dutifully wearing our masks (in my case, a buff) and maintaining our six feet of space between shoppers. We quickly realized that we were going to be there for a long, long time. Our line neighbors were quite pleasant and the time passed quickly, with philosophical discussions through masks about quality of life vs life itself, the political situation in the US and Grenada, and how the store could manage its lines better. The line moved in fits and starts and Kevin and I and our neighbors took turns finding small bits of shade to hide in when the sun started to blaze.
After about three hours, as we rounded the third corner of the field and could see the supermarket parking lot (but not the entrance yet), I went looking for the supermarket staff to ask if they could hand out some water. I met one of them headed in our direction, carrying a box of water. I suggested he put it in a cart (seemed odd that he hadn't thought of that) so he could transport it to more people. He gave me a bottle and continued to carry the heavy load around. Later, two young women brought more water in a cart and later in the day, they improved their system with a more ergonomic cart. They were halfhearted in their water delivery and often quibbled with the line waiters about how many bottles they had consumed.
The lady behind us needed to run to the pharmacy which also had a line, although it was much shorter. It occurred to me that I could ask her to buy some items that would make our line waiting more comfortable so I walked over to her (leaving Kevin to keep our spot) and asked her to buy sunscreen and snacks. She returned a short time later and I walked up and down the line in our immediate vicinity, sharing out the sunscreen and snacks until they were gone.
After about four hours, I had exhausted all the novelty of chatting, shade strategizing, and benevolence towards my neighbors, and was ready to shop. Rumors were starting that the store would be closing earlier than planned and I was tired of patiently waiting so I headed to the front of the line to find out what was happening. The supermarket is part of a mall with a long, air-conditioned hallway. At some point, the line got routed through this hallway, filled with stores that were now closed. As I walked by the hundreds of people staggered through the mall, I began to suspect that our line hadn't been moving forward, so much as condensing into the air-conditioning.
When I got to the front, I found chaos. There were security guards milling about, as well as various lines and lots of activity inside the store but not a lot of obvious monitoring of the lines. From what I could gather, there was a line for seniors, a line of essential workers, and a line of the rest of us. It wasn't clear who was getting in or how it was being decided. I asked to speak to a manager and, to my surprise, was able to do so fairly easily. The guard outside the door spoke to the guard inside the door who ushered me in.
In the US, I am sure there would have been a line of irate people giving their opinions. Here in Grenada, it was different. I only had to wait until the manager finished speaking with a concerned security guard and then she turned to me. I let her know that, along with many others, I had been patiently waiting for hours to get into the store but we were worried that we were running out of time. I asked if they had any indication of how many more would get to shop. She said they would get in as many as they could.
I asked her if they knew if there would be any more shopping days, if they were able to start their on-line ordering, if they had any plans as to how they would serve all the customers and if they could please plan for those of us waiting in line so we wouldn't stand there for nothing. At least, I asked, would they cut the line at a certain point and send people home if they were certain they wouldn't be able to accommodate them.
She said she wouldn't know anything until the Prime Minister's speech that evening. She was polite but seemed understandably overwhelmed. I left with very little confidence that we would get into the store. I interviewed people at the front of the line who had been there since 6:30 that morning and quickly understood that the essential workers and elderly were being given priority and would easily take up all available shopping time.
I counted the customers in line on my way back to my place and gave updates to all the people along the way as well as those in line behind us. There wasn't much I could tell them except that, by doing some basic math, it seemed unrealistic that any of us would be able to shop before 5 pm and that the manager had very little in the way of a plan. No one was willing to leave the line but Kevin and I agreed that we could go elsewhere and at least get some shopping done. Since neither of us was desperate for food at that point, it was an easy decision to make. I did keep in touch with the lady who made the pharmacy run via WhatsApp and she let me know that the store extended their hours to 8 pm to accommodate more people. They also apparently took names of people still in line at that point and will try to give them priority on a later shopping day.
Kevin and I embarked on a whirlwind tour of various shops at that point, starting with the gas station mini-mart where we picked up a bunch of junk food and juice. If nothing else, we would make our children happy. We got a lead on a store that sold food in bulk from a lady in line and we headed there next. After waiting in line for an hour, watching people coming out with ridiculously tiny, child-sized shopping carts filled with Costco-like purchases, Kevin and I entered a bizarre, chaotic store with many employees scurrying about.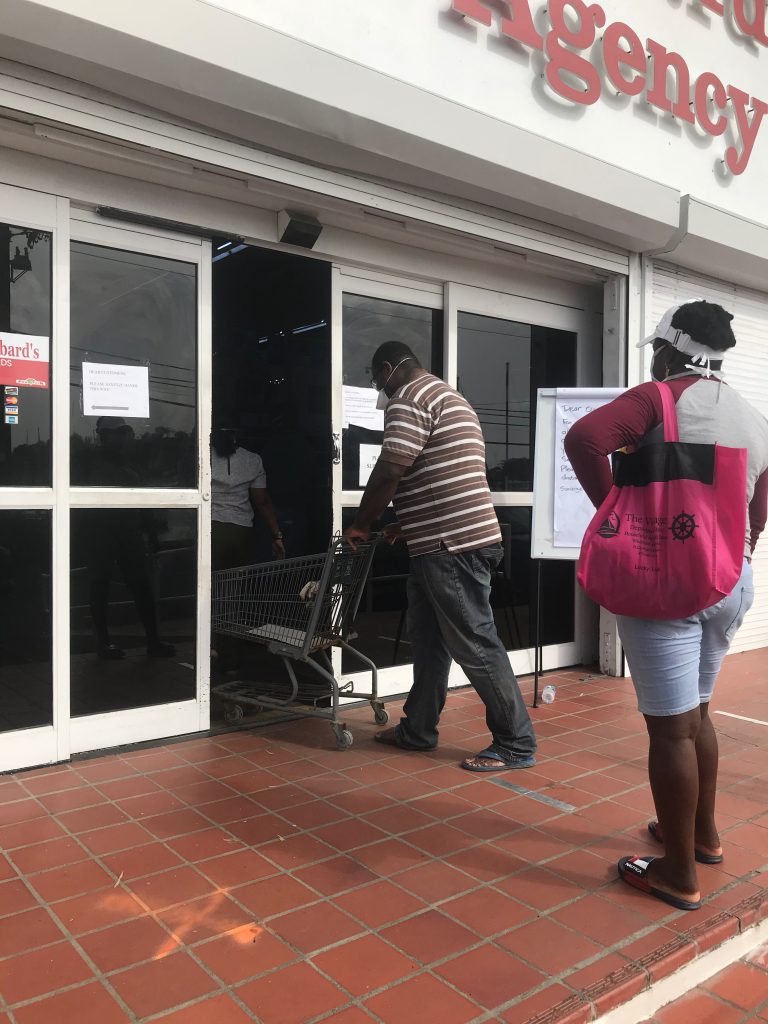 There were no aisles, just stacks of goods impossible to see behind the counters and impatient, brusque clerks taking orders and typing them up in a computer. It was difficult to determine exactly what they had – most of our shopping had been done as we carefully monitored the items coming out of the store so we could try to determine exactly what was on offer.
I had heard that the minimum number of items was 3 and my clerk was sort of helpful so I ended up with a moderate number of items that I more or less needed, like flour, chicken ramen, and sour cream and onion flavored Pringles. Kevin, on the other hand, had a clerk who acted infuriated with every question he asked. She never told him about the 3-item minimum but let him think he had to purchase by the case so he ended up with a case of sour cream and onion Pringles that his children dislike as well as an alarming number of yeast packets. I couldn't stop laughing about his 55-lb bag of sea salt which he carried out with pride, saying that although it would last him the next decade, it was very cheap and probably cost less than the normal grocery-store sized container.
One of the advantages of being in a small community is that it is a small community. While I was waiting in line to pay, the security guard called to a woman in line outside that he obviously recognized as a regular. He told her, "Mary – your order is right here waiting." She moved over to a large cart full of sacks of flour and got in line behind me. I put two and two together and said, "Are you Mary from Meet and Meat?" This is the boutique market located at a marina near us that also is known for their homemade bread. We chatted for a few minutes and I got the lowdown on how to place an order as well as what types of bread they would have in the next few days.
Kevin and I were feeling better about returning home with something to show for ourselves when we decided to make one more stop at a neighborhood shop to get some eggs. We passed Foodland, another large supermarket, but their management had already cut off the line so we had no hope of getting in there. I jumped out to pick up some take-out BBQ chickens that I had ordered earlier (not sure why that guy was able to open but I didn't really care) and Kevin noticed someone selling produce out of his truck with no line. I ran over and bought 4 bags that each contained lettuce, tomatoes, cucumbers, and a slice of pumpkin. The produce looked incredibly fresh and, for $3/bag, it seemed difficult to go wrong.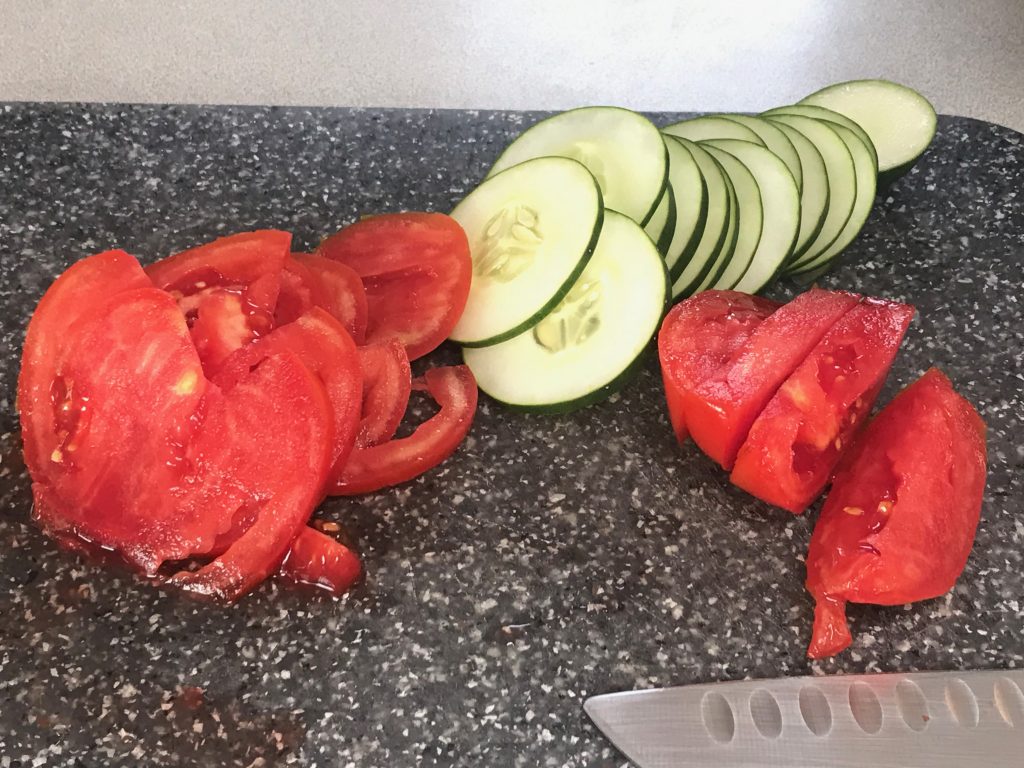 On the drive back to our boat dock, we saw a neighborhood store. It was 4:55 and the stores were supposed to close at 5 pm. There were one or two people outside and some men unloading a car. I asked if they had any eggs and the door monitor told me yes. He looked to the men unloading (who must have been the shop's owners) and they said I could be the last customer. Once I got in, I found an entire fridge dedicated to eggs and mostly full. I got enough for me and Kevin and then added a few more things to my basket as the line slowly moved through the store's two aisles. The kindhearted owners kept sneaking in "one last customer" and I learned that they were having to restock the store on the only day there were allowed to be open, which was causing them great difficulties.
Shopping finally over, Kevin dropped me at the dock and Joe came to pick me up. He had successfully run school for the day and everyone was interested to hear why it had taken me so long to go grocery shopping. Tully wanted to know why I hadn't bought her the requested Kinder egg but Marin and Cobin were happy because the gas station had their requested junk food items.
After we had unpacked the groceries, I jumped in the dinghy because the borrowed ice bowl had been weighing on my mind all day. If you recall, I made an unauthorized trip to shore to George's house where he sold me some ice and beer and promised to procure some cabbage and carrots for me. Marin and I made the trip across the bay again and, as I guessed, George didn't have any cabbage or carrots and didn't bring up the money I had left with him. He was grateful to have the bowl back and told me he would continue to try for the cabbage and carrots. I could stop by his boat on the next shopping day and he would do his best to get them for me. I have no hope that I will ever get them from him but figure the money was well spent for my adventure and to have another local friend if I need anything.
The Grenadians really are helpful people. I got the BBQ chicken man's WhatsApp number so I could let him know if Kevin also wanted chicken (he did). I allowed the chicken man to rip me off – sometimes it's just not worth quibbling over a few dollars – and it might have been worth it. Surprisingly he texted me later to ask how the chicken was. I told him that it was delicious (it was). Then he sent me an announcement about tomorrow being a day for everyone to buy gas. I told him I needed produce, not gas, and he asked what I needed specifically. Who knows what will come of it but I guess it's worth overpaying for chicken to make a local connection who might have other connections!
Along with this lead, there is also a Vegetable Bag man who promises to deliver fresh veggies to your door, a lady known to cruisers who is trying to get permission to deliver produce to the docks, the farmer I noticed who has a large plot next to another local store, and the old stand-by boutique market. They just announced two more shopping days at the supermarkets with limited hours based on your last name so Kevin and I will once again try our hand at the line waiting this weekend. It's not a question of if we get groceries – it's just how much effort we will expend to get them.
It was a bit discouraging to hear last night that the Prime Minister is extending the 24-hour curfew for 14 more days. We thought about leaving for the US Virgin Islands but heard they are closing the beaches and trails there and that it's very crowded with boats. For now, we are content at anchor in our beautiful bay, with our little lionfish-infested reef and nowhere else to go. Grocery shopping is more of an adventure than it has ever been before – it has entered the realm of a "quest" and has therefore become alluring rather than a dull task.
So, for the time being, we will stay here, improving the boat and the children's minds while plotting our next shopping moves with the assistance of a wide range of local players.
The country has been holding steady with only 12 cases so, while inconvenient, the strict measures they have put in place appear to be working.