We arrived in Grenada almost two weeks ago. No quarantine on arrival – we slipped in under the wire as the country shut down shortly after we arrived and started quarantining all new boats for 14 days.
After two weeks at sea and no unusual symptoms, we felt confident that we could enter the country without bringing in any disease.
Like the rest of the world, we were unprepared for how quickly the world would change. We had inklings of what was going on via satellite e-mail exchanges with people back home but were still surprised to see people walking around Grenada with face masks and rubber gloves.
The World ARC organization was struggling to stay on top of the issue and there was much talk about how our circumnavigation would end. After a short stay in Grenada, the plan was for all the boats to make their way to St. Lucia for a series of celebrations on the island where most people began the circumnavigation.
While we officially joined the World ARC in Santa Marta, Columbia, we had previously landed in St. Lucia and would be crossing Charm's wake (our criteria for completing a circumnavigation) upon returning to Rodney Bay.
Unfortunately, like the rest of the world, and like the characters in The Princess Bride, we have to "Get used to disappointment." Since those days of relative freedom a short while ago, things have changed drastically. Many island countries, including St. Lucia and Grenada, closed their borders. The World ARC cancelled the rest of the circumnavigation, gave us our certificates for completing the circumnavigation (even though we are 130 miles short) and essentially turned us loose.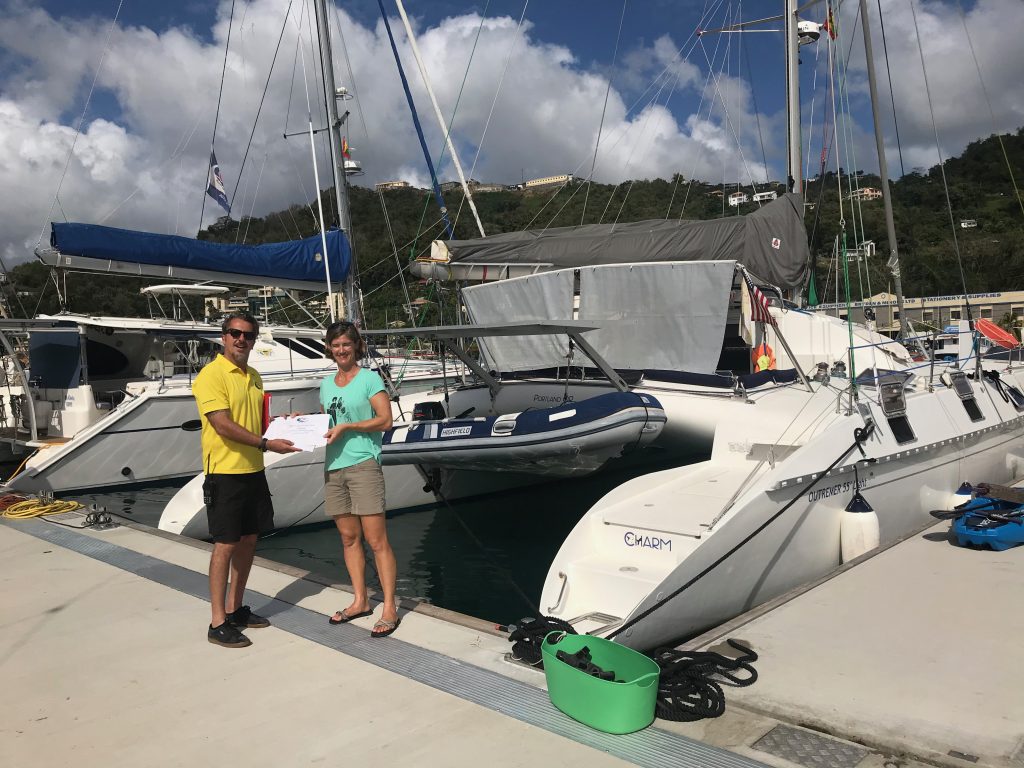 Almost immediately, we were dealing with issues related to our business in Colorado being shut down by the governor's order and the selling of Charm delayed due to prospective buyers being unable to travel. All of our planned guests cancelled their plans to visit and we tried to figure out what our best course of action would be. Since Grenada at the time had no COVID cases and the US was reeling, we decided to stay here and keep enough provisions on board to allow us to sail the two weeks to the US at a moment's notice.
At least we are close to our home waters. The current participants in the World ARC are now in French Polynesia where provisioning at the best of times was challenging – I don't envy those boats arriving after 2-3 weeks at sea to find empty shelves and no support.
We did have the chance to do an island tour through the green hills of Grenada, to a waterfall and past several places where they grow nutmeg and other spices.
We also took a group out on our boat to visit the underwater sculpture garden and stocked up at the grocery store before Grenada started putting aggressive measures in place.
One of the interesting things on the tour was a house with cacti covered with eggs. Our guide told us the eggs were to ward off evil spirits. He added that it must not have worked so well on this house because it has definitely seen better days!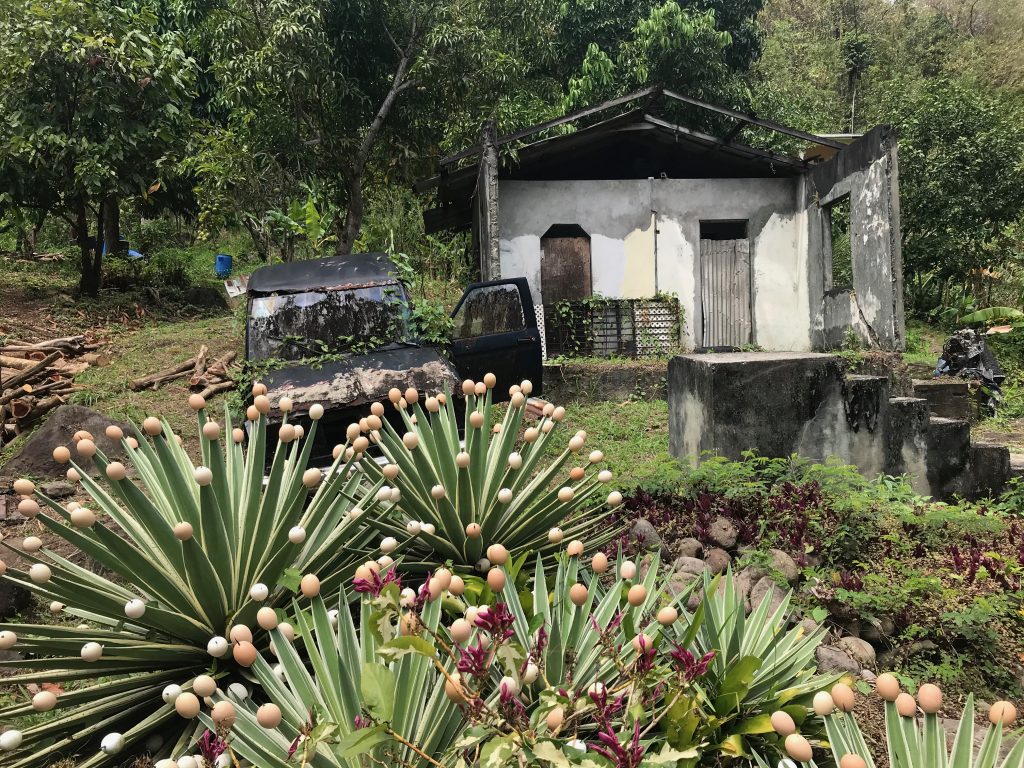 At the supermarket, the shelves were still well-stocked, with all items, including toilet paper, bleach, and many American products that we haven't seen in over a year. The kids were thrilled to find Eggo waffles, Cheez-Its (we did find these in Tonga once), normal Cheerios, Butterfingers, Kind Bars and many other delights.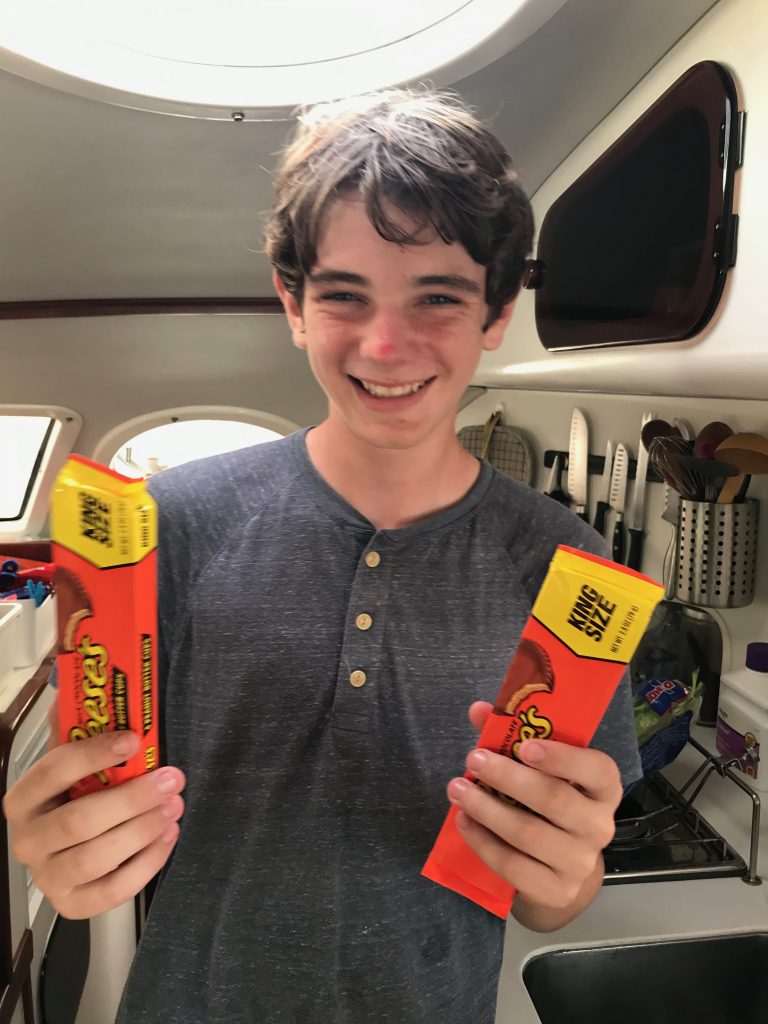 I organized a van to take a group of ten of us to a local waterfall area with natural rock slides.  Todd and Judy from EQ2 joined us, as did Calle, the delightful young Danish sailor joining Steve on Spirit of Catherine.  Paul off Chao Lay came along and Nancy, Lars' sister from Sweet Dream rounded out our group.  The upper waterfall was just the right size to pass behind without feeling like you would be pounded to oblivion.  All members of our family made it through at least once.
The lower part of the river had a series of natural rock slides feeding into a pool. There were a number of locals hanging out in and around the pool and we watched them to get a feel for how it worked. Marin jumped right in and swam over to the base of the rock face that housed the slides. A local woman helped her climb up and pointed the way to the best slide. With encouragement from everyone, Marin was the first of our group to go down. The rest of us followed.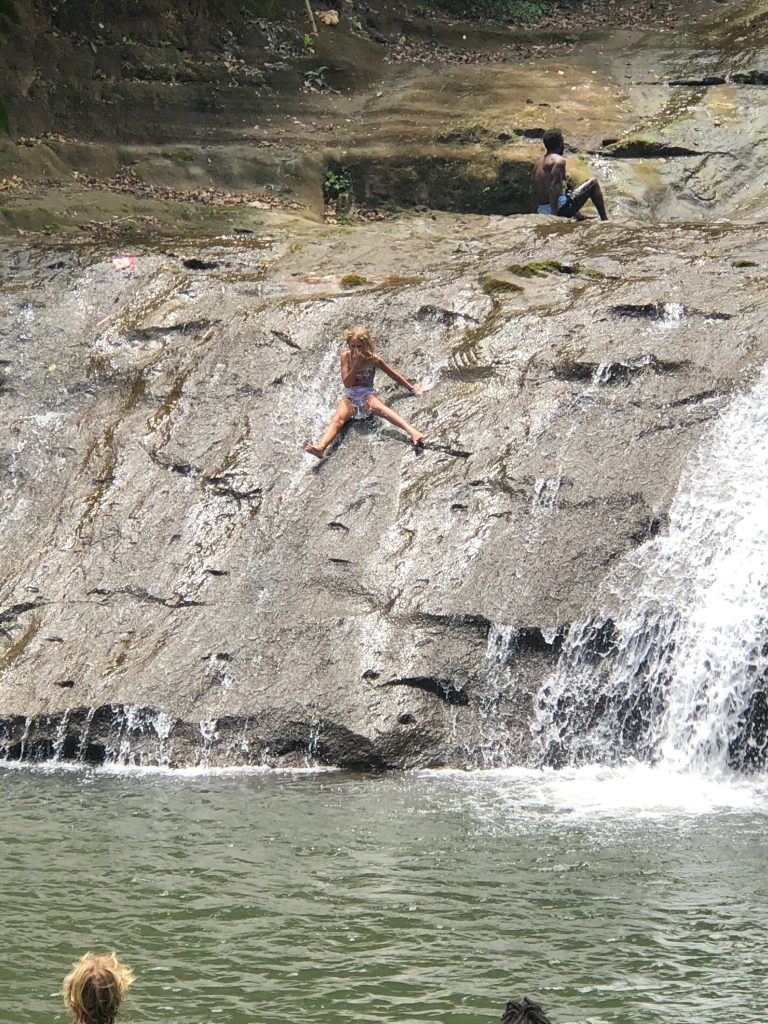 While it wasn't terribly uncomfortable, it's still a slide made of rock and not quite the same as a water park. After I tried it once, I was content to splash around and be a supporter. Tully had other plans. She went down once with a shriek of delight and a giant smile on her face and climbed back up to do it again. After reaching the top, she decided she wanted to jump in the pool instead. But she needed me to go first. I had no interest in jumping in but did it to support her. I must not have made it look very fun because she decided not to follow me.
She also didn't want to go down the same slide from before and insisted I try out a different one at the end with a large rush of water (the one with the most water on the far right visible in the photo below of Tully lounging and to Marin's right in the photo above).  This one looked very appealing but I had noticed earlier that the locals had not encouraged Marin (or anyone else) to go down it and, because of this, had told myself to avoid it.  However, I had seen a couple of people make it down without any issues so when Tully was urging me to try it, I decided it was probably OK.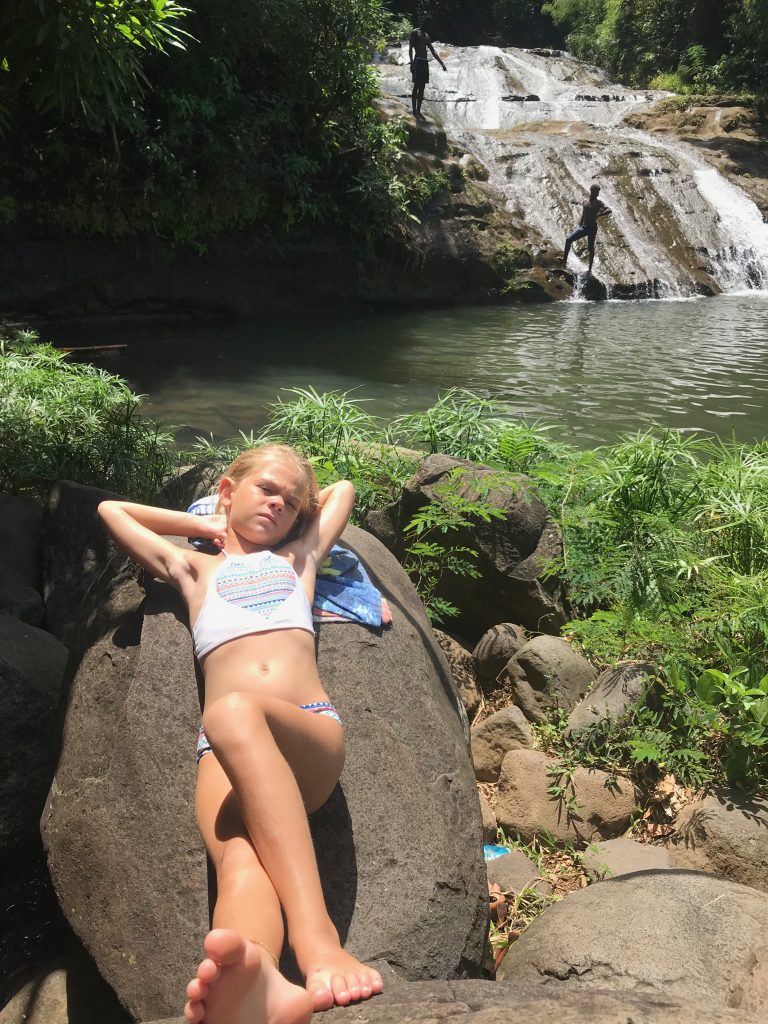 I crossed over and sat down and went for it, without any hesitation. It turns out that hesitating and following your initial sound guidance gathered from observation and local knowledge is actually important to self-preservation. In the initial moments of the slide, I experienced the same mild unpleasant bouncing and jostling of sliding down a rock face. Then I entered the large rush of water and was essentially free falling into the pool. Yay! Then I hit the rock at the base that was covered up by the large rush of water. With my left butt cheek and tailbone. Yeowch!! A week later finds me still sitting down gently and favoring my left cheek. Thankfully, Tully chose not to follow me. Sucker that I am, I went up and let her sit in my lap as I went down the original slide once more and, as every small rocky protuberance dug into my wounds, wondered at my inability to just say no.
We wound up our time at the waterfall and felt like we wanted to do something else but it was lunch time and many of our group that didn't bring parents laden with snacks were wanting food. Since most restaurants had shut down and it was a Sunday, our taxi driver didn't have much hope. He said there was one place that might be open and turned down the road to La Sagesse. Fortune shined upon us as the restaurant was open and it turned out to be one of the most delightful experiences of our trip.
Situated on a gorgeous sandy beach with a handful of other patrons, the restaurant had everything we wanted. They placed us on our own in a small beachside open-air space where we had easy access to the beach. After checking with the taxi driver, we decided to spend a few hours there, eating and relaxing. Nancy and I walked down the beach and across to the other side while the kids swam with Joe and Calle. When we got back, Joe had befriended an American family that lived between the US and Grenada. They have four kids, ages 3, 5, 7 and 9 that they are home schooling. Their mom and I hit it off immediately and managed to chat away while tracking small bodies around the beach.
We all had a delightful time and headed back to our boats feeling like we had escaped the stress of COVID for a short time. The next day was my birthday and we had a small dock party with a rainbow cake that Tully has been wanting me to make since we got the recipe book at our Christmas party in Cape Town. I'm beginning to see a pattern with our youngest daughter here . . .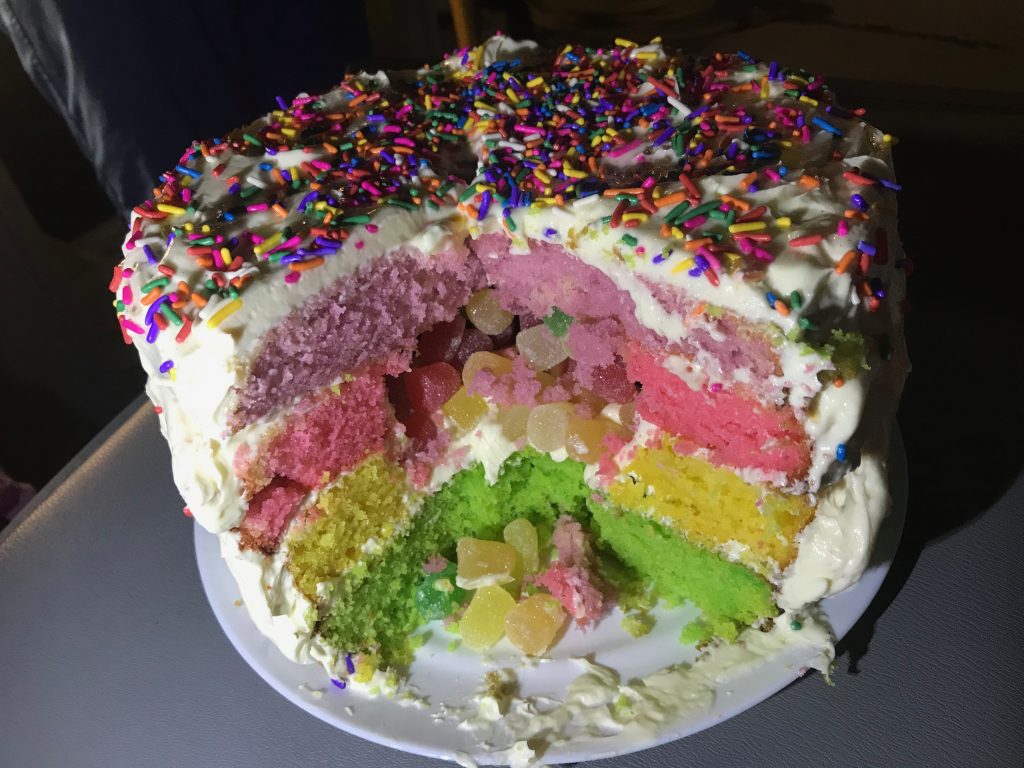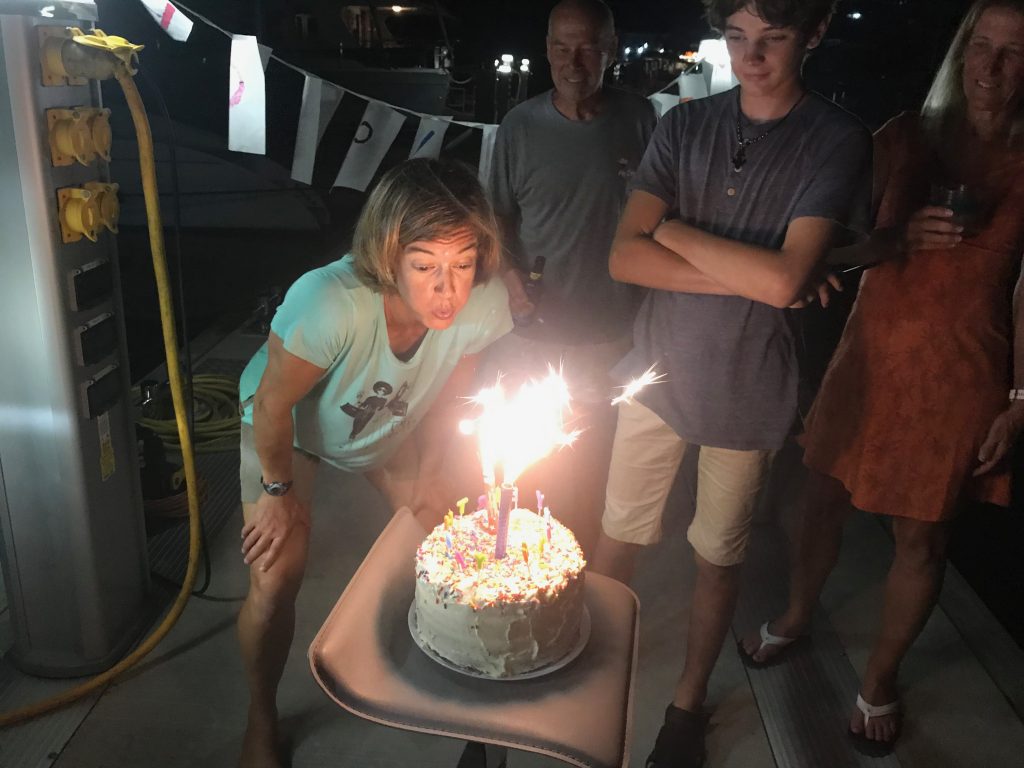 After our first week in Grenada, things were changing quickly. The marina restaurants, which had been opened normally, went from having staff stand at a 6-foot distance to serving take-out to closing entirely. The ministry announced the last flights in and out of the country and had previously closed the country to cruise ships. The swimming pool, which the kids had been enjoying immensely, shut down. We heard that the grocery stores would be limiting the number of people inside so Todd, Judy and I headed over an hour before opening to make sure we could stock up.
We were the only ones there at 7:15 in the morning but others started arriving about 25 minutes later. Many times. we have talked about how lucky we are that we landed in Grenada for this health crisis. The people here are lovely – very patient and kind. The crime rate is low, they have plentiful natural water supplies and are able to grow many different fruits and vegetables locally. Although much of their food is imported, they have a history of farming and many independent farms that provide the stores with local produce and meat. The population is about 110,000 and the island does not feel crowded even during normal times. While a line developed behind us, when the store opened, they let everyone in and we got everything we needed.
On March 24, Grenada implemented a shelter in place order. They had their first COVID case confirmed and quickly acquired six more, mostly related to the original. I admire how quickly their government has acted. Being on a small island has its advantages in that, if the population cooperates, the virus could be contained relatively quickly.
We did our best to comply with the order by taking our boat out of the marina and anchoring where there weren't any other boats.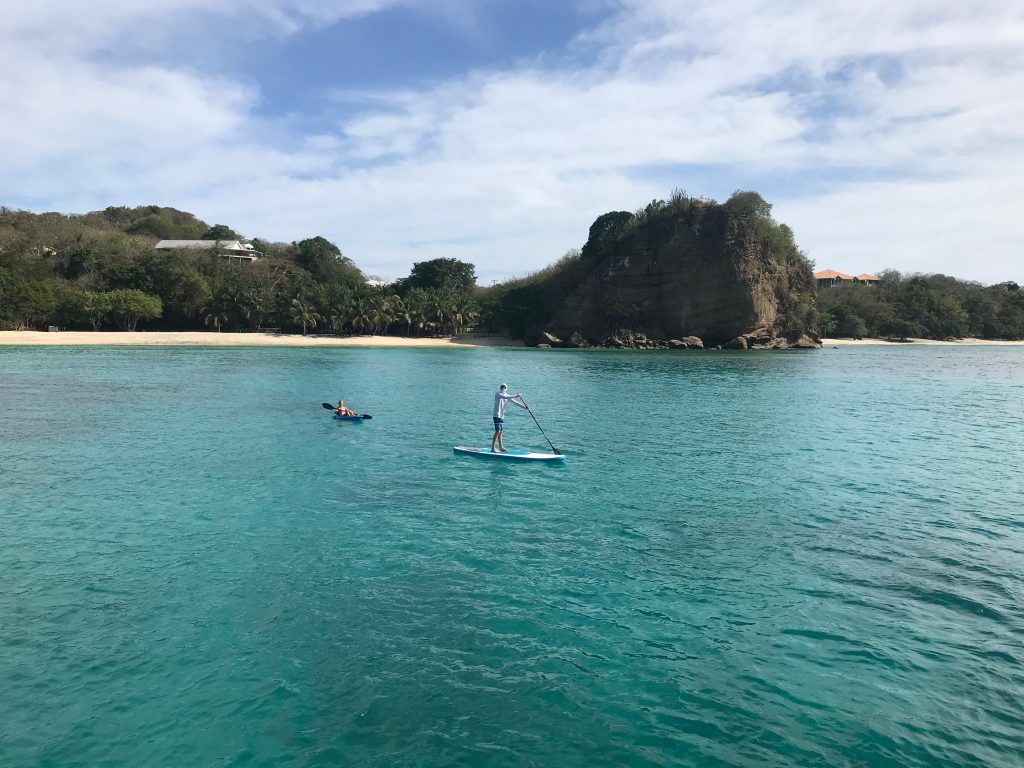 The government allowed people to leave their homes for up to 1.5 hours of exercise while maintaining social distance so we visited the beaches where we encountered a few locals out for their exercise. Since we are also allowed in our "yards," we let the kids swim around the boat. I went for a run and saw a few cars out but no one else. Some Grenadians came by in their dinghy and sold us a few fish on the boat.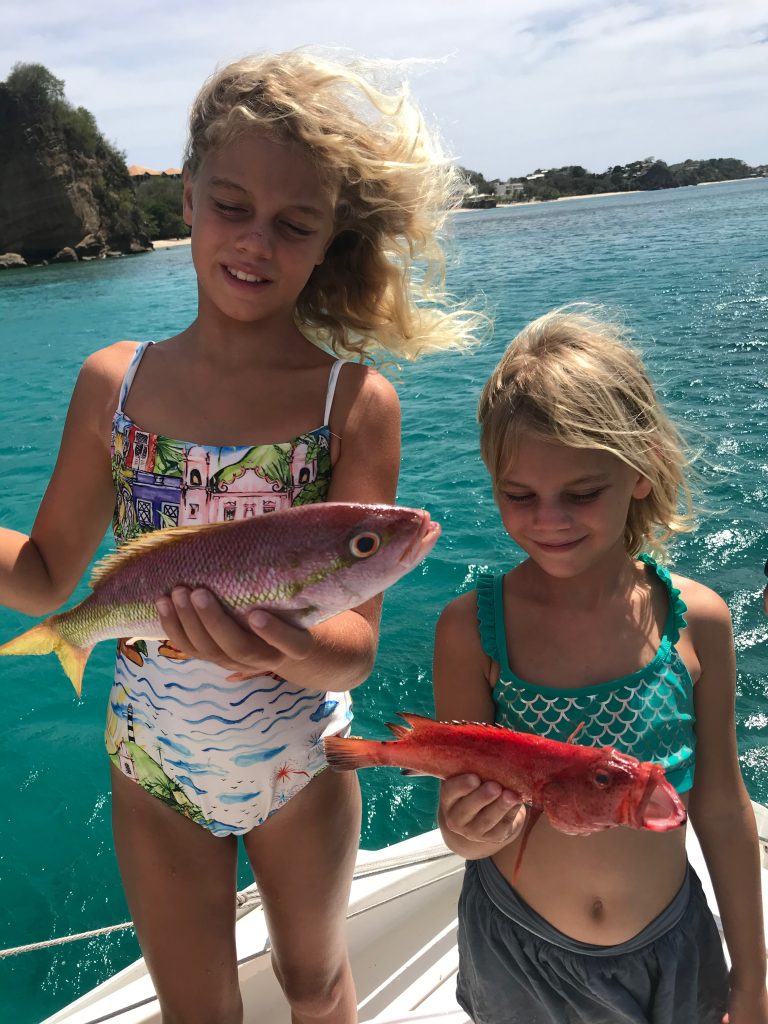 Unfortunately, not everyone was following the rules and the government announced tonight that they are imposing a stricter curfew starting at 7 pm tomorrow until 7 pm on April 6. No one is to leave their places of residence for any reason except for food or medical emergencies.
We spent our last day on nearby Hog Island which had a beach with cows instead of hogs.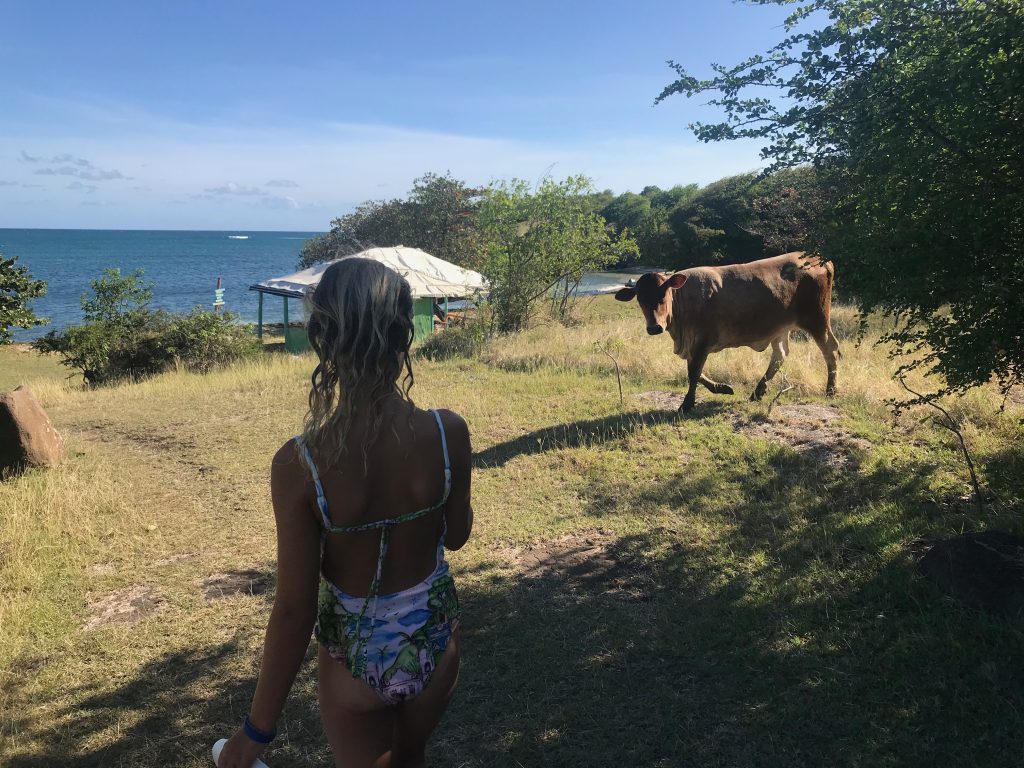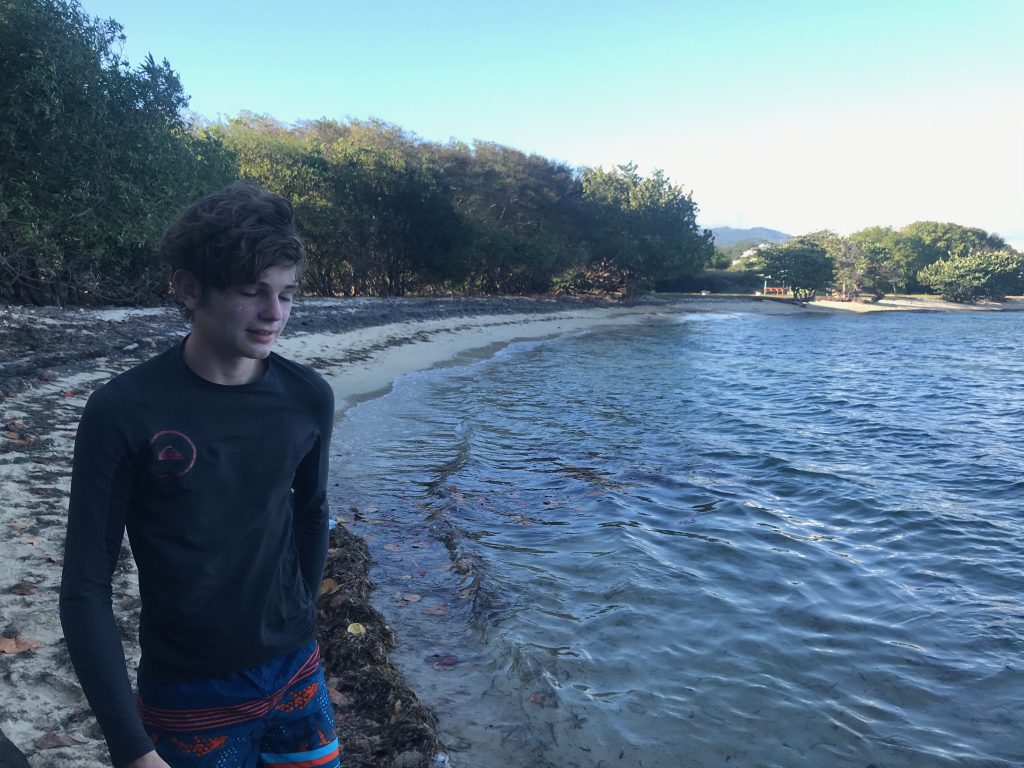 In the words of the Minister for Health, the Honorable Nickolas Steele:
The Prime Minister said before, and I repeat tonight, our Administration is not in the business of gambling.
We are not in the business of taking lives.
Everything else pales in comparison to the health and wellbeing of a nation.
This is not about economics. It is about saving lives. It is about public health, public safety and public order.
To that end,
The beach parties end.
The bar gatherings and boat parties end.
The crowded buses will be parked up.
Everything that puts our lives and livelihood at risk ends.
All things considered, we are not suffering greatly.
We are uniquely suited to this situation in that we have essentially been practicing for "shelter in place" for the last several years. We routinely stock up on two weeks' worth of provisions and then spend good chunks of time confined to our place of residence with no option to go elsewhere. Home schooling is already a routine and having company is a rare treat. In fact, being in Grenada has actually improved things for us because, unlike a passage at sea, we can get off the boat and into the water on a regular basis and we do have access to internet, although it is still fairly limited in most anchorages.
It's ironic that just when we thought we could start eating through our provisions without worrying about what would be in the grocery stores or start spending more time ashore getting to know a culture in-depth, the entire world changed and now everyone is living life as we have, in their own small bubbles, physically isolated from everyone.
Another irony is that, just when I thought I had rid our boat of bugs, in comes a bigger bug both on the boat and in the world. Look at the size of this moth that was hiding on the top shelf in our bedroom!