The big news in Mauritius is that there wasn't any big news. After 12 days on the ocean, we spent time catching up on chores, shopping and sight-seeing, getting haircuts, and eating off the boat.
Upon arrival, we spent a full day doing a deep clean of Charm. With high humidity on the crossing (causing mold to grow quickly) and 8 people on board, there was lots to do. Carl, Talia and I, along with Marin and Tully, tackled most of the indoor tasks while Joe, Josh and Cobin worked on maintenance and outdoor cleaning. It was a hot, sweaty day and we were all grateful when it came to an end.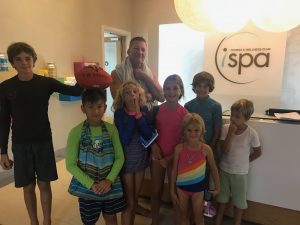 Carl took off on his own for most of our time on Mauritius although he did return for a book store date with Marin, his fellow bibliphile, and hosted all the ARC kids for a day at the pool at his hotel.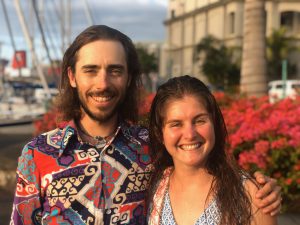 Josh and Talia spent most nights on the boat but also went off exploring and mountain climbing around the island. 
After glancing through the tourist information, Tully had her heart set on "walking with a cheetah" which was one of the activities advertised at Casela Park, a game reserve/zoo. Upon further investigation, we learned that you had to be at least 15 (so you were big enough not to be seen as prey) but Tully decided she still wanted to go. While we will be in Africa in two weeks, it's hard to go against the will of a determined six year old so we all got in our car and headed to the park.
We got there late in the day and, based on all the activities they had, decided to spend the night in a hotel and return the next morning. Usually I'm a big planner but I thought I would try being a bit more spontaneous this time. I had all the kids pack stuff for an overnight but we weren't sure we would actually stay somewhere. I had made a reservation at one place but it was about 40 minutes away and we were all hot and tired and wanting to be in an air-conditioned room as soon as possible.
And so began two hours worth of going door to door, following up leads on Google and booking.com, in order to avoid the 40 minute drive. It turns out that in the area around Casela Park, all the big hotels were booked and the smaller places either weren't quite what we were looking for or were unable to accommodate us. After having decided that I would dramatically increase my spending to try to avoid heading back to Charm for the night, we found a "villa" and I booked it on my phone while parked in front. Then we spent another 30 minutes trying to figure out how to get inside until a staff member finally saw us and let us in.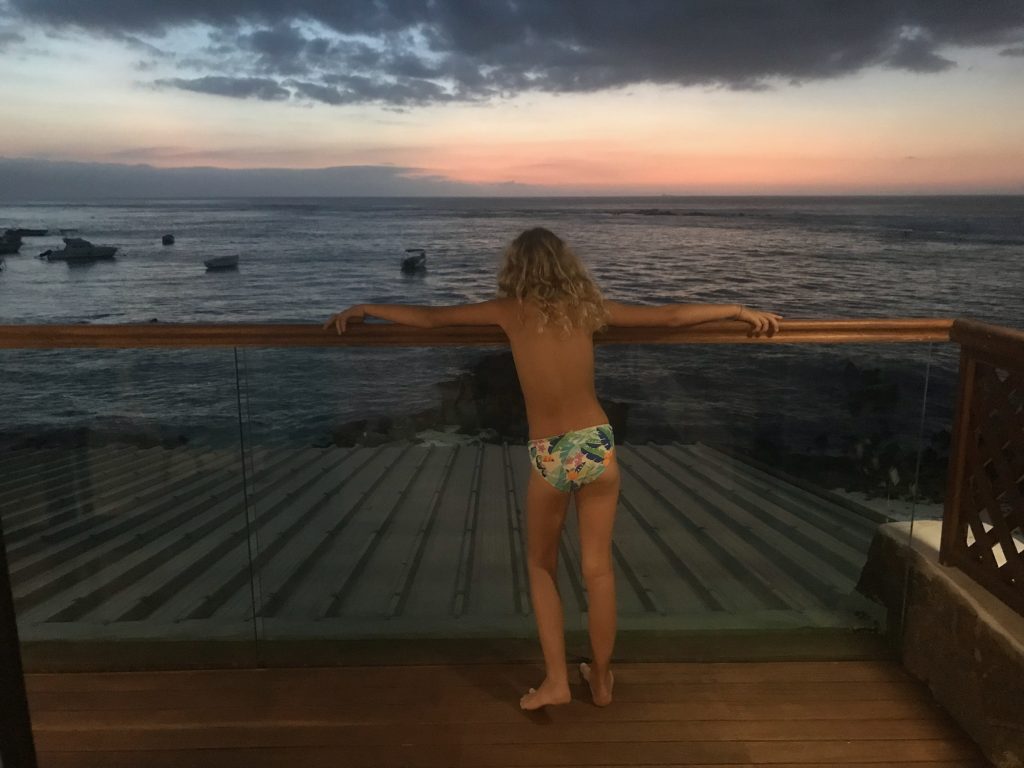 I walked down to the local store and picked up food for dinner and breakfast and we spent a pleasant afternoon, night and morning at our overpriced (but lovely) apartment with a gorgeous view. I reconfirmed my instincts to book ahead and hope to avoid another Bethlehem moment in the future.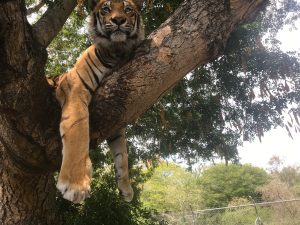 Tully was very excited to see tigers since she couldn't walk with cheetahs because she said, "I've never seen them before!" After boarding the gated vehicle to head into the tiger enclosures, she said, "Isn't there one in our zoo in Colorado Springs? So I have seen one already." So it was a bit anticlimactic but I still enjoyed seeing the tigers lounging in trees at a distance of 5 feet from us.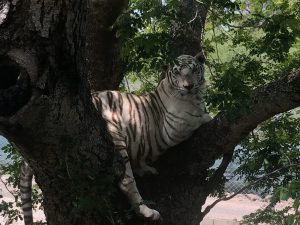 Our guide switched effortlessly between French and English and told us that he had worked with the tigers since they were cubs so had lots of firsthand knowledge about all of them. They had just been fed the day before so we got a great view of all of them napping and resting with swollen bellies.
The biggest highlight was the "roller coaster" which was really an alpine slide sort of thing on a roller coaster-like track. Basically a go-kart powered by gravity and affixed to a metal track. Joe and I each rode with a girl in front and Cobin rode on his own. You had the option to brake or not. I opted to brake the first time but, due to peer pressure ("Mama – pinky promise you will go full throttle!"), managed to go the second time with full acceleration. The camel ride was also a big hit.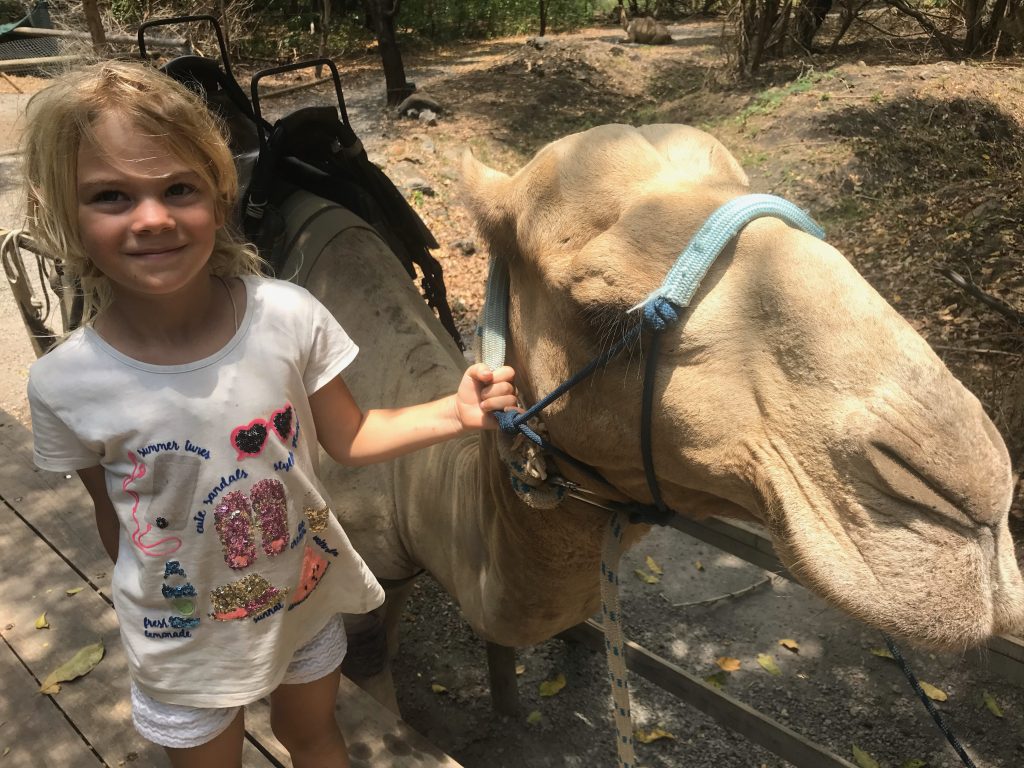 We did a tour organized by the World ARC that took us to the Pamplemousse Botanical Gardens and L'Aventure du Sucre, which was a fabulous museum that traced the history of sugar in Mauritius back to the origins of the island as an upwelling of volcanic material from the sea.
They repurposed an old sugar mill and kept the original equipment in place so the exhibits wove around all the original equipment. It was incredibly comprehensive and I learned quite a bit about Mauritius and sugar. After our tour of the mini sugar mill in Mackay, Australia, and now this place, I'm starting to have a good sense of what it takes to turn sugar cane into sugar. Basically, it's lots of squeezing, straining, boiling and evaporating.
After our fun Hash run on Christmas Island, we were eager for another. Hash House Harriers are international running/beer drinking club that I believe originated in the UK. The trail designer sets the course ahead of time using flour markings with various known signals and the group has to figure out the route of the run.
Luckily, the Mauritius Hashers were meeting while we were on the island. Todd from EQ2 was the inspiration to go and we also convinced Travis from Nor'easter to join us. The kids were not enthusiastic but they went anyway. We drove 45 minutes to the north of the island to join about 25 other runners and walkers on a run designed by Isa, a lovely young woman who has been hashing since she was 4. Travis and I ended up running with a small group of three Mauritius residents that were originally from France, Poland, and Morocco. Most of the group walked and Joe joined them to keep Marin and Tully company. Cobin did a combination of running and walking.
The kids did an amazing job. It was at least a 7k course and very hot. Thankfully we took water along or it would have been much less pleasant. I'm hopeful that if we do another hash, there will be other kids or ours might lose the limited enthusiasm they currently have for hashing. Joe and I enjoy it because we get to meet the locals and learn more about "real" life wherever we are rather than just visiting the tourist sites.
I bought the girls Indian dresses in honor of Diwali, the Festival of Lights, and Cobin discovered fireworks on sale at a grocery store he visited with me.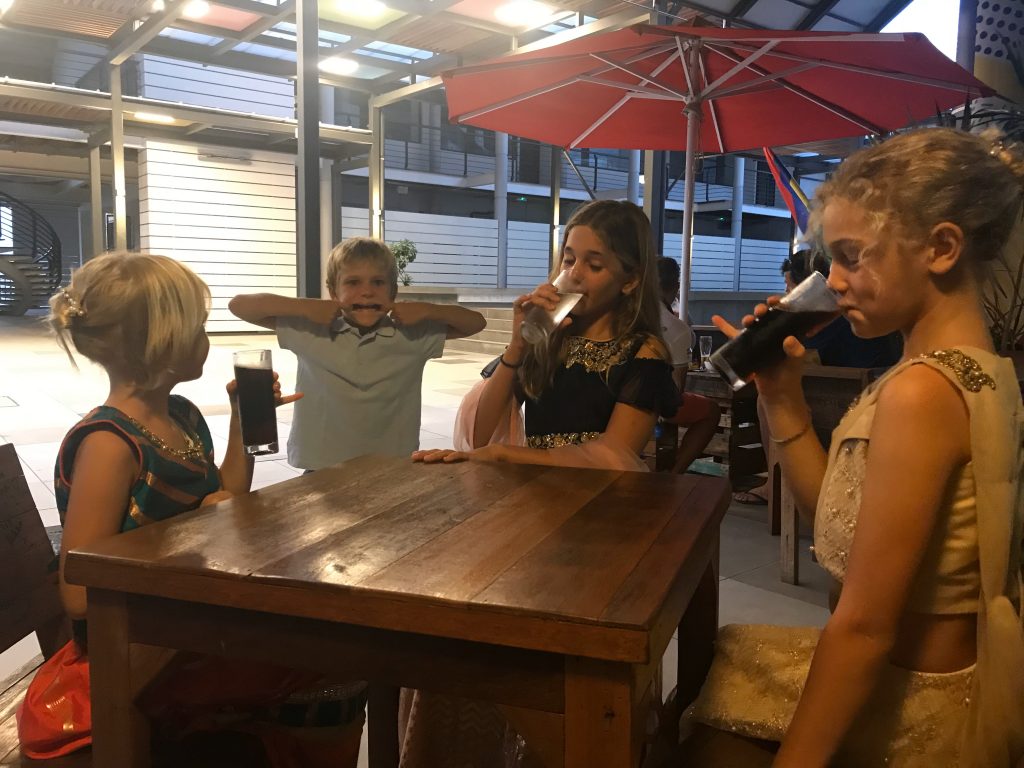 He and the other ARC kids were putting on a fireworks show that packed a bit more punch than I had expected. We bought Roman candles which are what I would call real fireworks – they go up in the air and make a big sound and shoot out sparklies. The security guard must have also thought they sounded a bit too real because he came over and shut our show down. It is true that we may have been erring a bit in the danger zone as our delivery system was a bit flawed. Cobin stuck a firework in a bucket and pointed it out to the water but the exertion of the firing on had slowly been turning the bucket so that each successive burst got closer to our buddy boat, Nimbus. I made a run to stop it but the series came to an end just in time.
We had several nice dinners, including one hosted by Helmut on Babsea to thank us for our help with the fuel transfer. Mauritius was the perfect place for them to arrive after their dismasting because there is at least one boat builder on the island and he had three masts available so Babsea should get re-rigged and be able to rejoin the rally, possibly before we leave Reunion.
Mauritius has so many things to offer and we barely scratched the surface.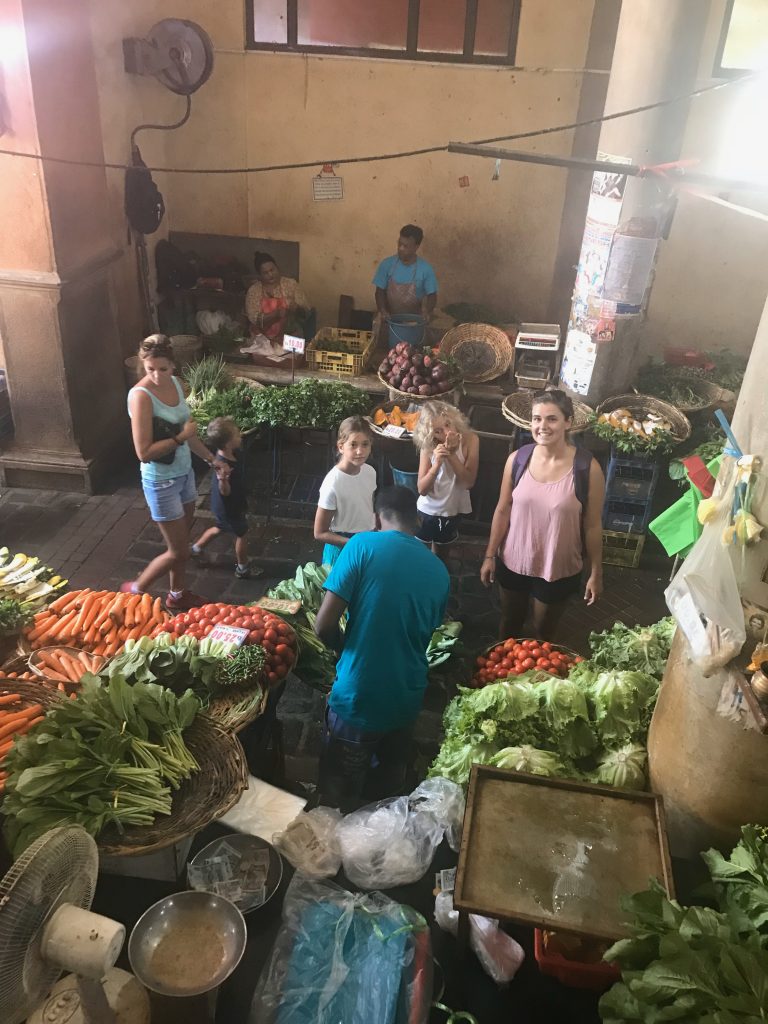 They obviously are interested in high-end tourism, with very clean beaches and upscale shopping and dining at the waterfront where we were located. The people are friendly and welcoming. But once we moved out of the main tourist areas, we found that, like many countries we have visited, there is trash everywhere.
This time, it was also obvious in the water. For some reason, we don't normally see tons of trash floating around. We know it's there, under the surface, but it doesn't bob around next to our boat. This time it did. It was almost a relief to have it out there – sort of like revealing the elephant in the room. Some change in the wind or currents brought all kinds of floating debris, most of it plastic, into the waterfront. Most of the kids in the fleet had been playing on our boat so I told them one day that they had to pay to play.
The "payment" was to take the nets and fish out two trash bags full of plastic waste. After a few minutes, I noticed a local man using their net to pull out the trash. When I walked over, he said, "This is my island and I appreciate their help but I should be doing this." He had come up from the southern part of the island in a boat, transporting two tourists to do some shopping.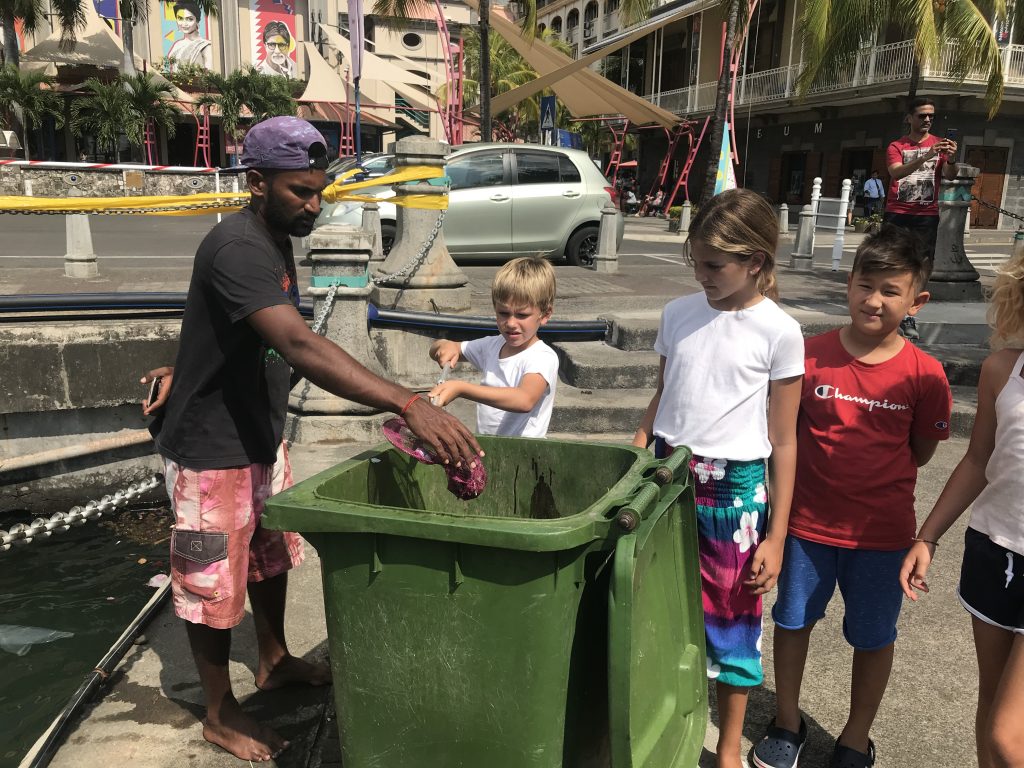 Normally he teaches kite-surfing or sailing to kids. I wished we had met him earlier and we would have taken the kids down to do some dinghy sailing. Instead, we gave him a tour of our boat as thanks for supporting the kids in their efforts to clean up a tiny part of the island.
The next day, I noticed people in official worker clothing fishing trash out as well as a barge with workers doing the same. So at least the government is making some kind of effort. But it's just window dressing until people quit throwing garbage. I went for a run this morning next to a concrete drainage ditch that appears to channel water to the sea during the rainy season. While parts of it were free of debris, elsewhere there were huge piles of garbage, just waiting to get washed down into the ocean.
While it's difficult to see this disrespect for our natural environment anywhere, it's somehow more impactful when it's on an island where you would assume people would see their connection to the sea and not fill it with garbage. If people aren't motivated to change their behavior here, it's hard to have any hope that it will be different anywhere else.