We had a lovely visit with the Hagans who left us a week ago. We went to an island called Mana with them after leaving Volivoli point. Supposedly they were filming Survivor there but had wrapped up the day before so we didn't see anything related to it. Nikitoo was there and invited us over for drinks and told us about a cool snorkeling spot near a patch of sand that was sticking up out of the water. We went there the next day and anchored Charm close by for one last snorkel for the Hagans. Mara and Shannon saw their first shark and a myriad of fish life, the kids played on the beach, Joe saw some sting rays, and Chris kept me from getting run over by a speed boat (snorkelers are hard to see in the water) through the power of his worrying from 100 m away.
After leaving Mana, we made our way over to Nadi, tidied up the boat in the sweltering heat of the marina, and headed to an air-conditioned hotel for the next three nights. We had good internet there for the first time in a long while so I was able to get all the old blog entries up on our website (www.charmof5.com). I still have to resolve some issues with my iPhone so I can upload more photos but maybe that will happen in Australia. Joe took advantage of the time to do multiple boat projects that had been hanging over his head and returned in the evenings to sleep in the cool, dark room.
After checking out of the hotel, our goal was to leave the marina by 2 pm so we wouldn't arrive at Musket Cove in the dark. There were activities planned for early morning and afternoon that we didn't want to miss. After unpacking, provisioning, getting fuel, and tidying up after all the boat projects, it was 4 pm before we left. Joe and I discussed the options which included anchoring nearby and making the 2-hour trip the next morning. Joe thought we could make it to Musket Cove that night and put the boat at full throttle. Night comes early here so it was full-on dark when we arrived at the outskirts of the tricky passage through the reefs.
I was still putting groceries away when I heard Joe back off on the engines. Then I heard a horrible screeching sound, like fingernails on a chalkboard. I rushed outside to see what was happening and Joe said, "We hit a reef." I rushed around with the searchlight, trying to assess the situation. Both bows were on a visible coral reef but the stern was hanging over deeper water. The wind was blowing us onto the reef but we had no sails up and the sea state was quite calm so we weren't in any danger. I noticed a flashing red light about 20 feet away on our starboard stern.
In the US, we have a saying "Red, right, returning" which means that when you are returning to a harbor, you leave the red lights to starboard (and green lights to port).  So Joe was doing exactly the right thing, except we aren't in the US.  The rest of the world has their lights oriented the opposite way and we know that.  I looked at the chart and noticed that we were in a part with red striped lines (usually a dangerous area) and that it said "REEF" on the chart, right above where Charm was sitting on the reef.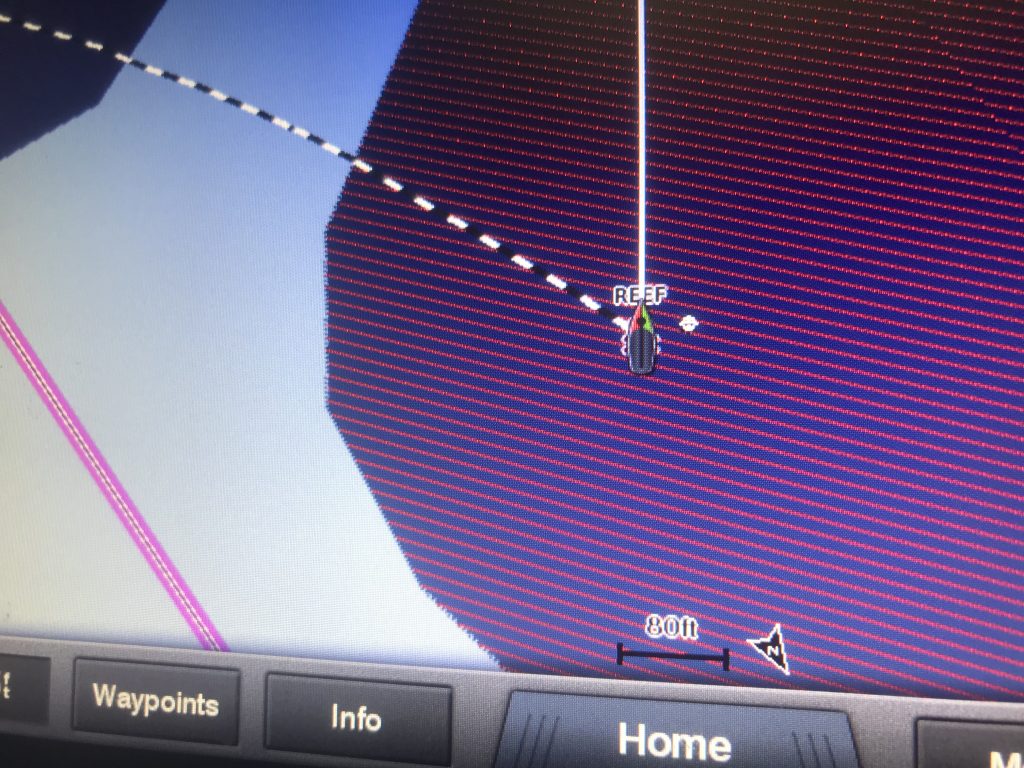 Cobin had put in waypoints we got from an app for navigating in this area.  We were nowhere near the waypoints.  When I asked Joe why he had gone into the danger zone and ignored the waypoints, he said, "You can't always trust the chart."  It is true that the alternative route through this area looked equally uninviting on the chart.  This particular chart had not led us astray before so I'm still baffled as to why we were in that red danger zone marked "REEF."  I guess that if you're going to hit bottom, you might as well do it in style!
Joe rarely, if ever, makes mistakes like this. It's delightful when he does because then the rest of us get to learn. My theory is that Joe secretly wanted to put the boat on the reef so the rest of us could learn what we needed to do to get it off in case it happens again. Much like when he throws himself off the boat so we can practice our man overboard drills. Alternatively, he wanted to get a head start on the bottom scraping that we're planning to do in Vanuatu. The coral basically did a decent sanding job on the bottom of both hulls.
Cobin checked the bilges to make sure we weren't taking on water (we weren't). Joe proceeded to run our engines hard to see if we could back off the reef. The horrible crunching and screeching as the boat pivoted on either the rudder or the skeg made me wince. Somewhere in the first fifteen minutes, the coupling on the starboard engine broke so we were down to one engine.
Several minutes before all this happened, I had called the marina, asking for a spot at the dock. The marina boss, Patrick, and the ARC folks were having a welcome drinks session so we couldn't reach him. When he called us back on the radio about ten minutes later and asked where we were, I paused. I wanted to say, "Stuck on a reef!" but Joe told me to tell him that we were resolving some boat issues. I told Patrick that we would be anchoring out and looking for a spot at the marina the next day.
Joe didn't want to broadcast our issue because then we might have all kinds of boats rushing to our aid and running into trouble themselves.
We looked up the tide table and saw that we were at low tide. The water would start rising in the next hour or two so our plan was to wait it out. Around that time, a dinghy appeared with Peter from a nearby boat (x/v Camara). He said he had watched us get stuck and proceeded to spend at least half an hour using his dinghy in combination with our port engine to try to get us dislodged. No luck. We also got one of his lines caught in our propeller as he was trying to pull our stern. Then we had no engines until Joe jumped in the water to untangle the propeller. I could see how easily one mistake could spiral into a serious situation and started advocating for waiting for the tide as opposed to forcing Charm off the reef (and potentially damaging critical systems).
After detangling the line, Joe was wading in the water by the stern to look at any damage to our rudders or propellers.  That was the deep spot under the boat and he was only in water to his knees.  We were well and truly on the reef.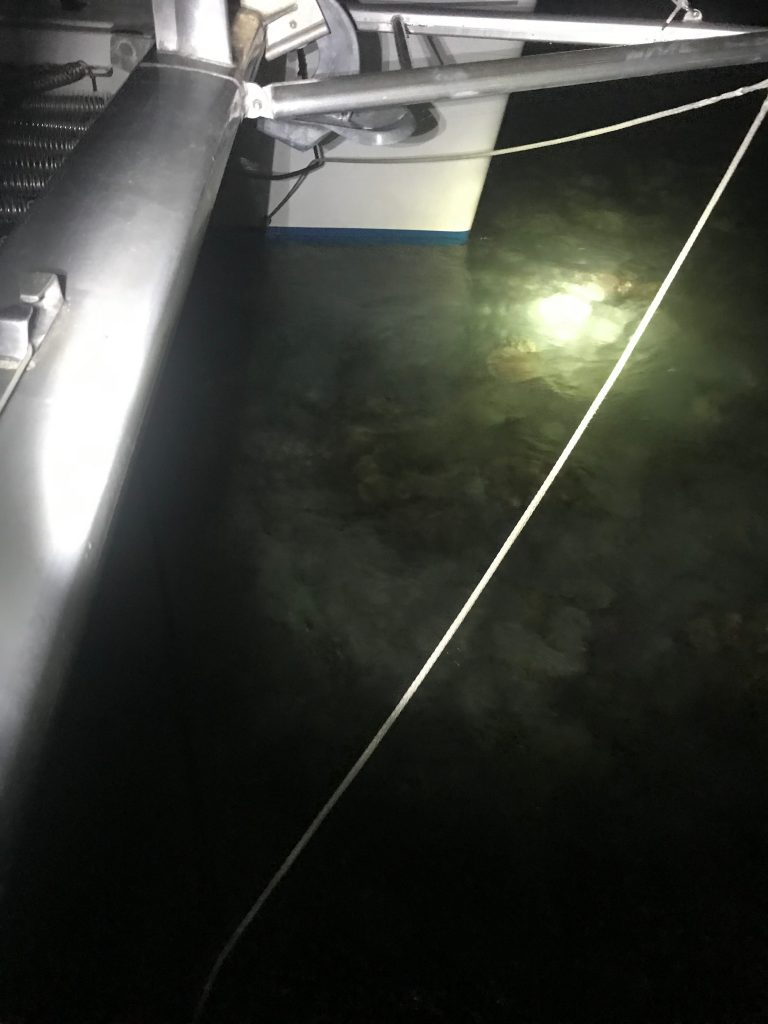 In the meantime, Cobin was making dinner for the girls and they were all watching a movie and could care less where we were. They did come out to see what landing on a reef looked like and then went back to their movie.
Peter and I went out in his dinghy and dropped our stern anchor off the reef to keep us from getting blown more onto the reef with the incoming tide. We could also use this anchor to try to kedge the boat (pull it towards the anchor) off the reef. No luck. At that point we all agreed that the man from Camara should go back to his boat for dinner and we would call him by radio after the water rose a bit if we thought we needed help. He was very kind and did not make any remarks about our judgement in arriving in coral-infested waters in the dark.
About ten minutes later, another boat came racing towards us in the dark. It was Patrick from the marina as well as a yacht liveaboard gentleman named Don. It turns out Peter's wife was worried about us and did a radio call to ask for help on our behalf. I was still in favor of the tide lifting us off the reef (and Don agreed) but Patrick and Joe wanted to give it one try. We attached the power boat to the side and they acted as our starboard engine. A few minutes of sustained engine running and we were free! Patrick acted as our guide through the rest of the entry to Musket Cove and took us to an open mooring ball where, with Don and Patrick's help, we tied up for the night. Whew! Joe swam on Charm the next day and saw many scratches on the bottom but no serious damage. He easily replaced the rubber coupling and we had both engines back and ready to go.
For you mechanical folks, we have direct drives straight to our propellers. If the propeller locks up (when entangled with a line or up against a coral head), the coupling breaks and prevents any major damage to the engine. Many other boats have things called sail drives, which do not have couplings. Once again, Charm's excellent design helped us avoid a costly repair job.
The next morning, we went into the marina to see about a spot at the dock and to thank Patrick for his assistance. I found him in the office. He had told us he wouldn't have been able to sleep at night knowing we were on the reef. Then he asked me for 120 Fijian dollars (about $60 US). He said that he had to rent the boat from the water sports people and needed to pay them. This felt very awkward and I didn't have any cash. Joe came in at that point and I told him what Patrick said. Joe paid him but it gave us both a yukky feeling.
Patrick then told us that we could have a spot at the dock and should watch for the red boat to leave. Joe and I returned to Charm and worked on some small repairs (coupling, rudder reseating, etc). Then it was time for the ARC beach games so we jumped in the dinghy and played tug of war, volleyball and other group games for a couple of hours. Nikitoo had invited us to go to a floating pizza restaurant/bar called Cloud 9 so we rushed off to that, thinking we would take our spot at the marina when we returned.
It was late afternoon when we returned and I called the marina to ask if we could come in to the dock. Patrick told us that he had given the spot away because he hadn't heard from us. This made me angry because he had never indicated that we needed to contact him again. In retrospect, I should have radioed in to let them know we would be coming later but he also could have found a way to contact us to ask before giving away our spot. I found him on land and let him know. He said it was hard to please everyone and that the boat coming in had made the reservation a year ago. This was confusing to me because I assume the ARC books their dates well in advance since Musket Cove is a regular destination for the World ARC. In any case, Patrick was quickly moving down our list of ethical marina managers.
Later we learned from reliable sources that Water Sports doesn't charge anything for the use of their boats to other resort employees. Patrick pockets the cash. Chao Lay, another ARC boat, also hit a reef and Patrick pulled them off as well. Mike, Chao Lay's owner, said Patrick asked him for 60 Fijian dollars for the "boat rental" and then Mike threw in another 60 in appreciation. Mike told me, "I never could have gotten off without Patrick's help and I knew that money wasn't going to boat rental." But we both guessed that Patrick came up with the amount he charged us based on what Mike paid.
Musket Cove is an amazing place. It is on the island of Malolo which also houses another resort called "The Plantation." It is small enough to feel intimate but large enough to allow decent runs through a variety of terrain. The resort of Musket Cove is very accommodating to yachts. We are allowed to use their swimming pools and facilities just like the folks staying at the resort. They have pleasant grounds and a little island with a bar, picnic tables and grills so you can make your own dinner. There's a well-stocked store where you can buy a "BBQ package" which includes everything you need to have dinner on the little island. It's one of the nicest marinas we've been to, with mostly very good staff.
Both Joe and I felt that Patrick's asking for money in the way he did was inappropriate. Certainly, we would have shown our appreciation in some tangible way. Typically boats that get help will thank their helpers with a bottle of wine, or possibly a meal. Cobin made fudge for Don and Peter which we dropped off with a card. Patrick got money.
I don't want to come across as ungrateful. Patrick did help us during his off hours. I don't even begrudge him the cash. But his asking for it in such an underhanded way and lying about the boat rental made it feel ugly. We didn't ask for his help (someone else did on our behalf) and didn't really need it. Fifteen more minutes and we would have floated off the reef ourselves. This will remain a sore spot for us whenever we think of Musket Cove.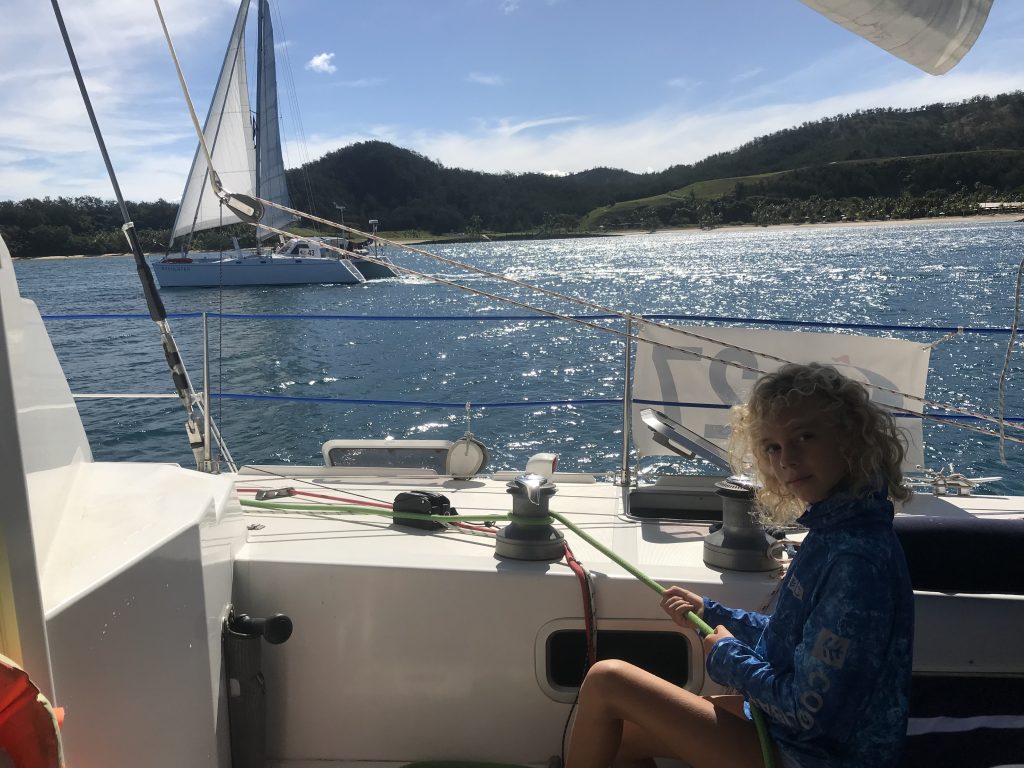 We left yesterday morning for Vanuatu with strong winds and seas, although we had calm conditions at the start.  We were clipping along at 10 – 12 knots with speeds in the 16-17 knot range when surfing down waves.  The conditions have calmed considerably which means the auto-pilot is working better so I can write during my first watch (I am now fully participating in the watch schedule with my 9 pm – 12 am, 2 – 4 am, and 6 – 8 am shifts) and we are now motoring with very light winds.  This is a race leg and we would like to beat Resolute II but since it's just Joe and me (and Cobin for a bit) sharing watches, we decided we would choose comfort over racing.  So, the spinnaker has stayed in its locker and the engines are on.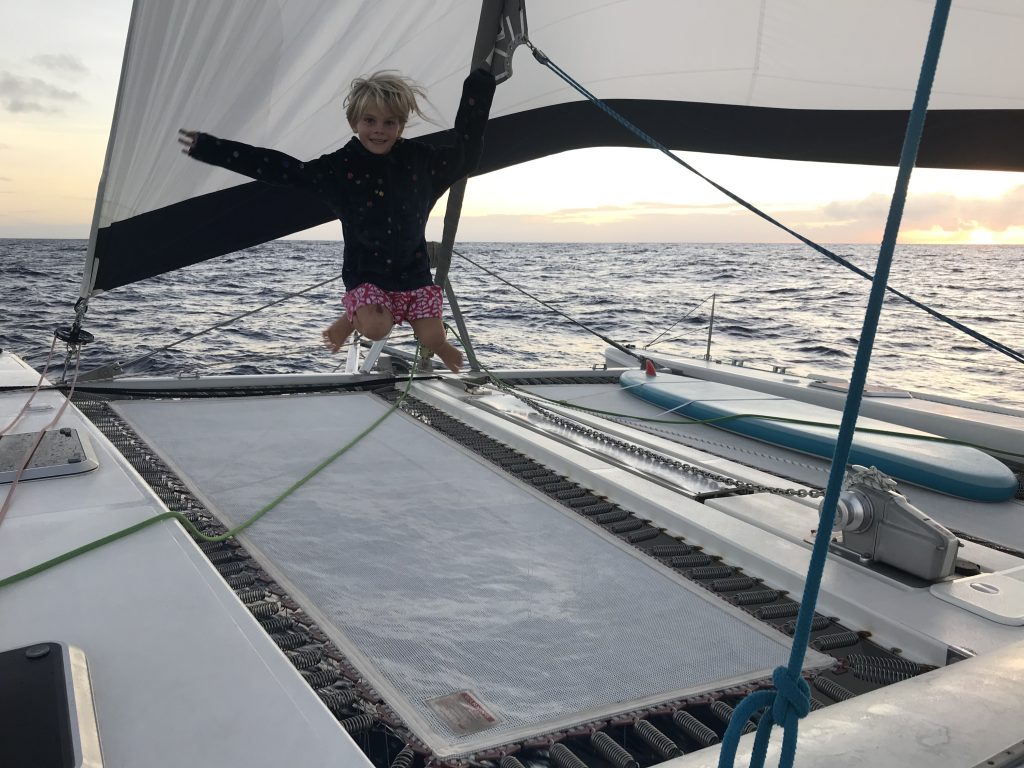 Joe did another horrible job today.  Cobin's head quit working so Joe took it apart.  Now, before we get more messages about Joe's cruelty (taking our watches, disassembling Cobin's head), please note that the "head" is the toilet on the boat.  Joe thought/hoped it might be a fuse but it wasn't.  He had to take it apart and remove the offending object from the macerator.  Baby wipes strike again!  If you can see the photos, you will know that this was a very, very disgusting job.  Joe likes baby wipes in the bathroom for quick "showers" or for more thorough cleaning of the nether regions.  But we have decided that we will no longer have baby wipes in the starboard head.  Too many inexperienced marine toilet users on that side.   It was an awful, foul-smelling job, but it's over.  And I didn't have to do it :0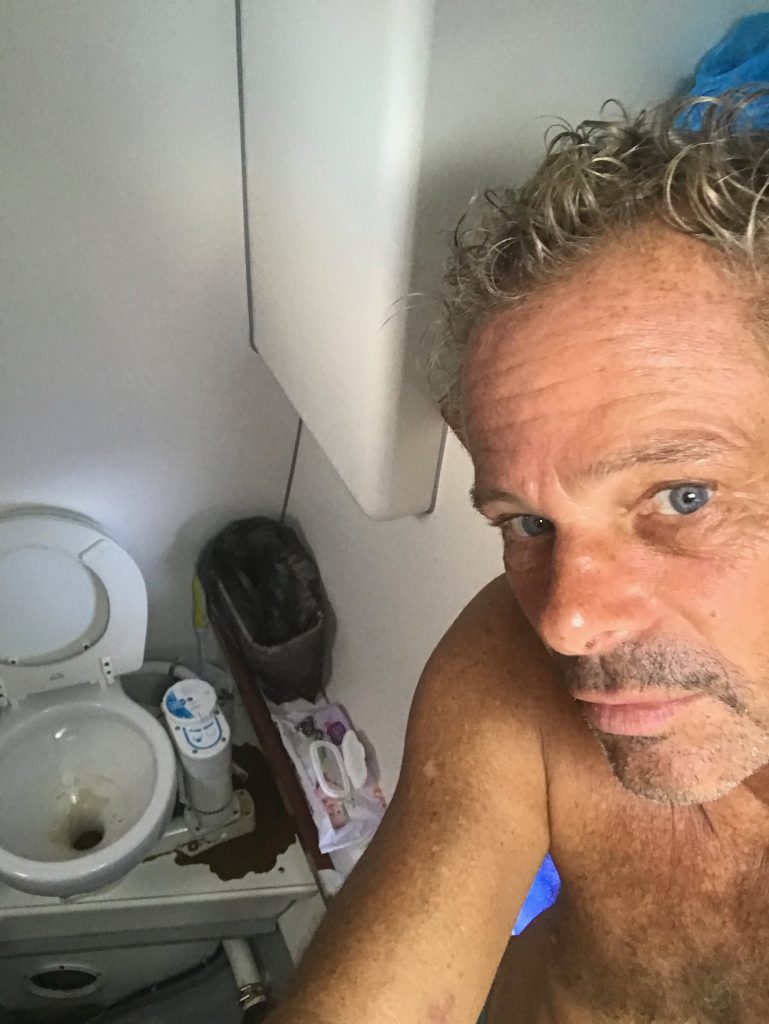 Joe just won the coveted "Blue jacket" at the ARC dinner in Musket Cove a couple of nights ago. This is a tradition started by an ARC boat in Las Perlas. It's supposed to be awarded to a boat that has experienced an undue share of bad luck or a person that has contributed to the fleet in a meaningful way. Basically, I think it's a way to shine a light on people/boats that need or deserve extra attention. It's a "people's award" and Joe won it because of all the help he has given other boats. We don't have a special prize to give him but if we did, he would have earned it for cleaning out the head today!
The last item of news is that Cobin and I might finally get our dive certification. We did all of the required open water skills in the Galapagos but had some issues with our paperwork so we had to redo two of them. If they accept our paperwork this time, we will get our certifications at long last!